This month, Ingencia's Ben Ernsten-Birns was invited to speak the annual Laserfiche conference for Laserfiche staff, resellers and customers in Long Beach, California. This is Ben's eighth year working with Laserfiche, and the eighth conference he has attended.
Ben delivered a 45-minute talk titled From Days to Mere Minutes: Maximising Efficiency by Transforming Business Processes to 90 conference attendees. The presentation was on the solution he designed and implemented with Hitachi Capital UK staff to reduce their 10-day turnaround for car loan applications to as little as 18 minutes. A full description of his talk is below, and you can read more about this case study here.
Ben also attended the Winners Circle, and Hitachi Capital were themselves given the Run Smarter® Award for in the Enterprise Digital Transformation category for the system which Ben designed. Run Smarter® Awards are awarded to organisations who have for transformed their enterprises through outstanding change management, process re-engineering and visionary initiatives.
Congratulations Ben, and everyone else involved in bringing this award-winning solution into being.
Want to Run Smarter®? Contact Ingencia to see what we can do for you.
---
From Days to Mere Minutes: Maximising Efficiency by Transforming Business Processes
Wednesday, 8 February 2017 in seminar room 101B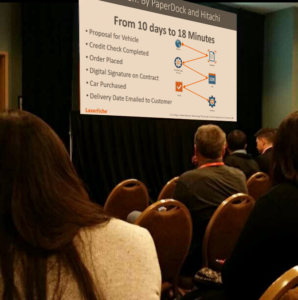 Hitachi Capital UK, which provides financial services for leasing vehicles, was facing an information overload. The organization has to
process about 1,400 proposals every month, with each proposal generating a significant amount of supporting documents. With help from Paperdock, they implemented Laserfiche, cutting the proposal-to-purchasing process from 10 days to 18 minutes. In this session, they will share:
How to use Laserfiche Forms to automate and manage business processes, dramatically reducing processing time
How to use Laserfiche Workflow to automate the transfer of documents between departments
Tips for successful change management when renovating outdated processes
You can read the full details of this case study here.
Ingencia is a Laserfiche reseller and Enterprise Content Management (ECM) specialist. We provide the software and services to solve information-based business problems and to improve operating efficiency and provide records compliance.