Optimise your enterprise with agile ECM
Agile ECM for the Agile Enterprise
Laserfiche Rio is the answer to you r enterprise content management (ECM) needs. By combining comprehensive ECM functionality with powerful business process management (BPM), security and auditing tools, Laserfiche Rio provides a solid ECM infrastructure that:
Manages your content.
Grants the IT department central control overstandards, security and auditing.
Gives individual departments flexibility to customize their filing structures, views and workflows.
And because Laserfiche Rio integrates with your existing IT portfolio, it also supports intelligent decision making enterprise-wide.
With a fundamental design structure engineered to meet the needs of the IT department, Laserfiche Rio is designed to be easy to purchase, easy to deploy, easy to support and easy to extend. Not only can organizations configure their own workflows, customize templates and write their own applications without hiring expensive consultants, but Laserfiche Rio is also flexible enough for department heads to easily customize and manage their own systems without any assistance from the IT department.
It's this ingenious approach to enterprise information management—with unique features including unlimited servers and repositories, capture workflows and transparent records management—that makes Laserfiche Rio the ideal choice for organizations seeking to maximize agility without sacrificing value.
System Topology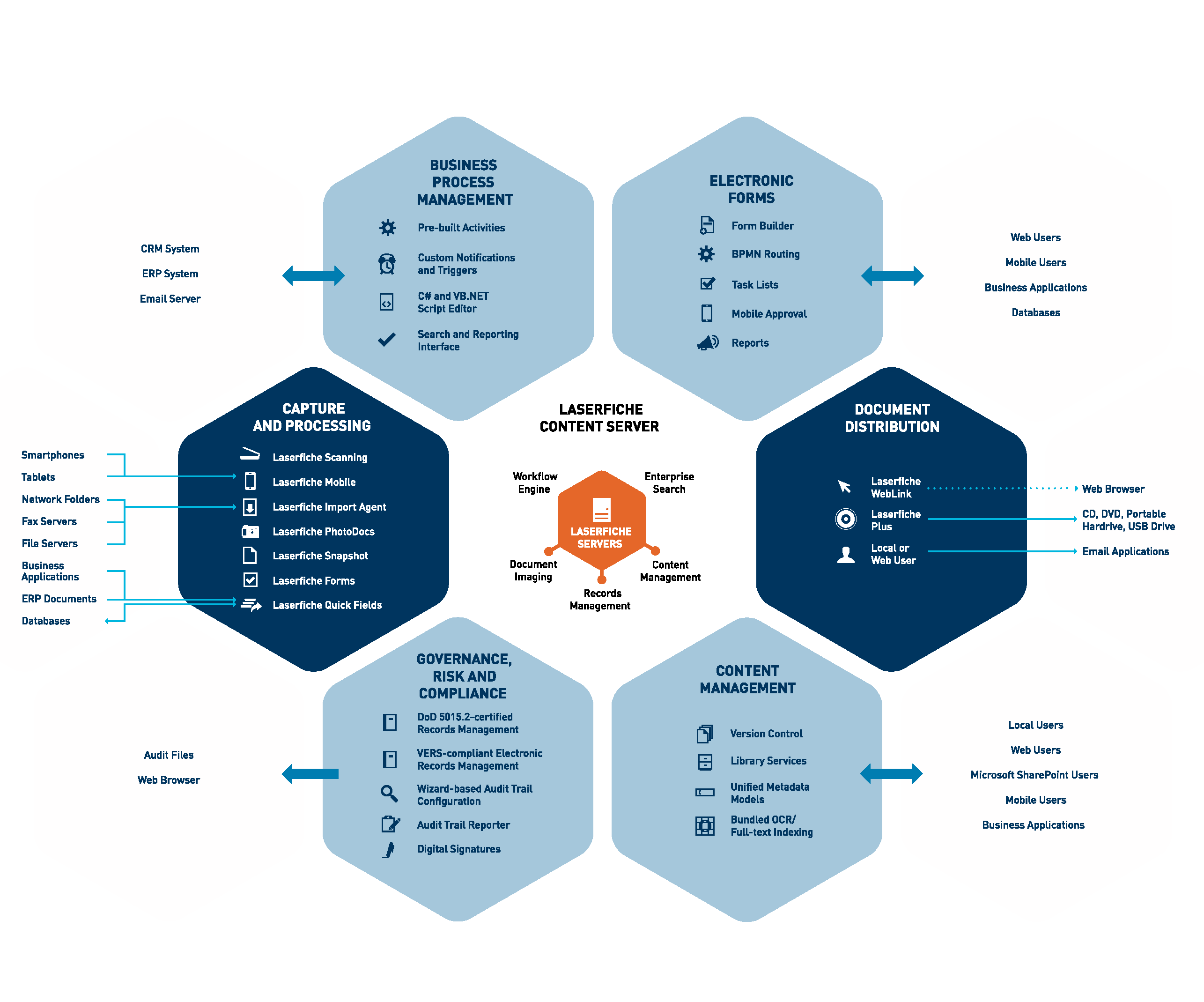 The functionality you need now and the scalability you'll want later.
The Laserfiche Rio system includes:
A licensing server to produce licenses as you determine system topology based on your specific needs.
Unlimited Laserfiche content servers that provide document imaging, document management and records management functionality as part of the core architecture—not through separate modules that are stacked together.
A feature-rich Web interface that does not require any software to be installed, maintained or updated at the worksation level.
Mobile applications that enable you to capture, upload and work with documents while on the go.
The Laserfiche Workflow system, capable of automating business processes in high-volume transactional environments, as well as customizing the way the system reacts to user input.
A built-in auditing solution for security and compliance.
DoD 5015.2-certified Laserfiche Records Management Edition, with integrated records management, security, auditing and reporting capabilities.
Production-level document capture and processing to automate document identification, indexing, classification and filing.
An electronic forms solution that ensures appropriate action on submitted forms is taken quickly with user-defined approval processes and task lists.
Fully customizable, read-only public Web portals, with unlimited public portal licensing.
An SDK that includes COM, .NET and Java libraries.