Automate Employee Onboarding
At some point, every organization needs to hire new employees. Digitizing and automating the process of recruiting and onboarding employees saves paper. More importantly, it makes existing staff members more efficient in dealing with hiring-related tasks.
Some benefits of automating your hiring process with Laserfiche Forms include:
Job applications are always legible and complete, since required fields prevent important information from being omitted.
Applications can be quickly and seamlessly passed to various employees for review. Because forms can be viewed easily on desktops, laptops and mobile devices, managers can review and act on them from any location.
Administrators can easily see the status of each application, allowing them to quickly eliminate bottlenecks.
Benefits of Automation
Reviewing job applications is a time-consuming task for HR recruiters. Paper applications maybe difficult to read or contain incomplete information, impeding the recruiting process and causing organizations to lose out on qualified candidates.
Additionally, the success of the employee onboarding process depends on effective communication between multiple people throughout the organization. Passing paper applications to one person at a time doesn't usually foster the kind of collaboration that's needed to react quickly when a qualified candidate comes along.
Laserfiche Forms and Laserfiche Workflow make the hiring process efficient from start to finish.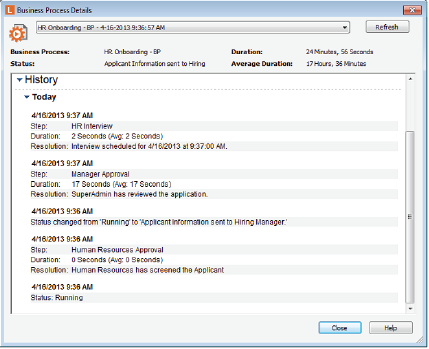 Business Process Reporting
The HR onboarding process is vital to most organizations. Since the process involves many different people and departments, it can be time consuming for the HR manager to stay on top of everything that is going on. Laserfiche business processes can help managers stay in the loop by providing the ability to view the status and steps performed on any application directly within the Laserfiche Client, Laserfiche Web Access or Laserfiche Mobile. Managers can also see a visual breakdown of any instance of the onboarding process from the Laserfiche Workflow Designer and view aggregated business process data over a particular time period with database SQL reports.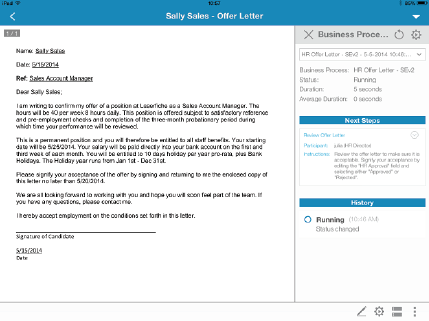 Stay Involed While on the Go
Business processes can't come to halt just because someone is away from his or her desktop computer. Laserfiche Mobile - which provides a secure, feature-rich portal into organizational repositories where documents, metadata and even AV files can be accessed and manipulated based on permissions - enables employees to participate in workflows from anywhere in the world.